Flood After Fire Overview
Floods are the most common and costly natural hazard in the nation. While some floods develop over time, flash floods particularly common after wildfires can occur within minutes after the onset of a rainstorm. Even areas that are not traditionally flood-prone are at risk, due to changes to the landscape caused by fire. Residents need to protect their homes and assets with flood insurance now before a weather event occurs and it's too late.
People are at greater risk of flooding due to recent wildfires that burned in their area. Flood risk remains a significant risk for up to five years after a wildfire.
Reduce your risk and the risk of your community by sharing Flood after the Fire messaging from FEMA and the National Flood Insurance Program. The most important messages are:
Buy Flood Insurance Today. Only Flood Insurance Covers Flood Damage. Most standard homeowner's policies do not cover flood damage. Flood insurance is affordable. An average flood policy costs around $600 a year, rates start at just $129 a year for homes in moderate- to low-risk areas
The Time to Prepare is Now. Gather supplies in case of a storm, strengthen your home against damage, and review your insurance coverages. No flood insurance? Remember: it typically takes 30 days for a new flood insurance policy to go into effect, so get your policy now.
Plan Ahead. Plan evacuation routes. Keep important papers in a safe, waterproof place. Conduct a home inventory, itemize and take pictures of possessions.
Use the communication resources below to prepare for Flood after the Fire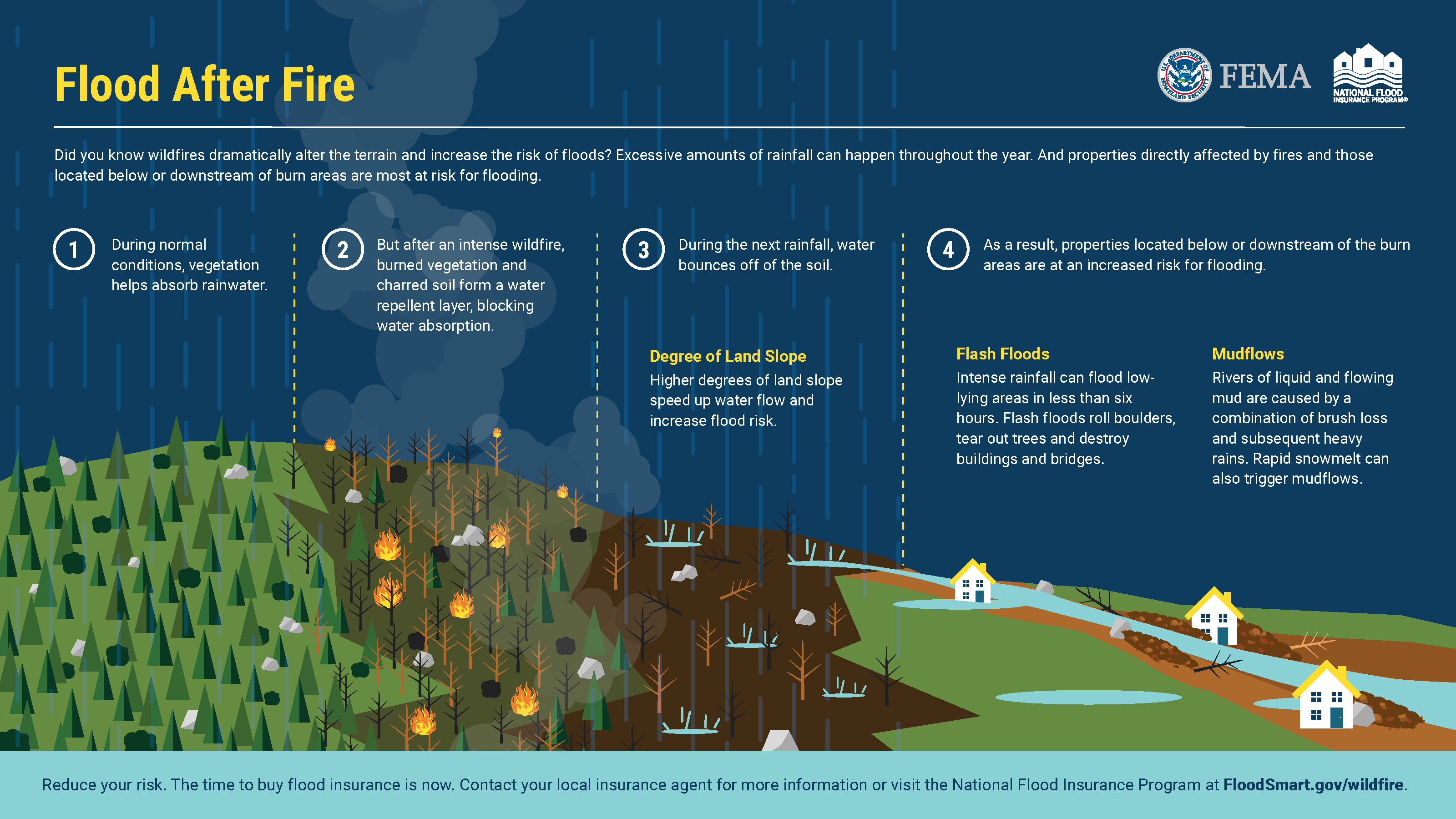 Flood After the Fire Resources Communication Resources

Colorado Information Resources

Other Resources
Local Resources
Garfield County and City of Glenwood Springs Flood After Fire Community Meeting
Eagle County Grizzly Creek Fire Basin / Debris Flow Map